Opening a world of possibilities: What are the benefits students can gain from attending SDB Day?

Q & A with Idris Salaudeen, who is studying for his Masters in hydrography at HafenCity University, Hamburg. He attended the inaugural SDB Day in Munich last year.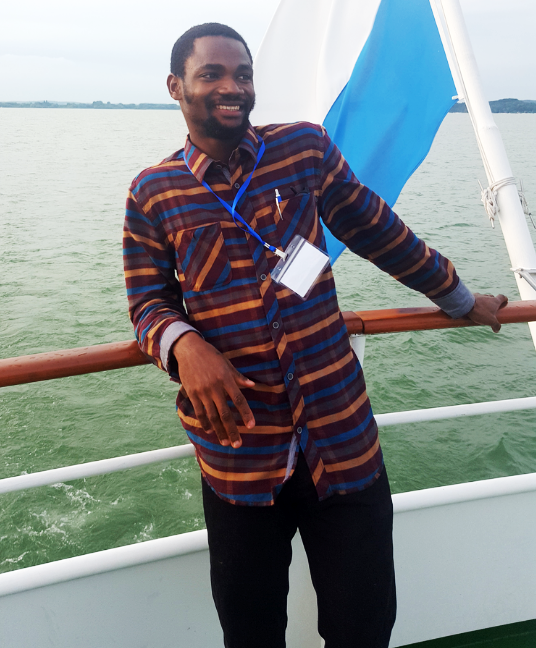 Idris during the SDB Day 2018 conference dinner cruise

What drew you to SDB Day 2018?
In my first year studying hydrography, I'd not yet come across the concept of satellite-derived bathymetry (SDB). It seemed totally seemed abstract to me. This prompted my decision to attend SDB2018.
I was particularly fascinated by the theme of the event which was well portrayed in the agenda for the conference.
What was the highlight of SDB Day 2018?
The main highlight for me was the quality of speakers and papers presented at the event.
The diverse topics from different perspectives gave room for various ideas and contributions alongside providing a broad spectrum of insights to the endless possibilities of SDB in its current state and near future applications.
I also had the opportunity to discuss, with industry leaders, the choice of a career path in hydrography and how to develop as a student in line with my career interests.
How has SDB Day 2018 been useful for you in the year since the event?
The insights I gained at SDB2018 helped me better understand SDB as a concept, which was taught in "Advanced Hydrography" of my Masters program.
I also keep in touch with some of the industry leaders who were present at the conference. I look forward to doing an internship, and the possibility of doing a Masters thesis in line with solving some of the problems faced in the industry—all based on the contacts I was able to establish.
What would you like to see more of in the SDB community?
I would like to see more collaboration with people in academia. I believe this would create research opportunities to improve various aspects of SDB.
However, I would also like to commend the organisers of SDB Day on the great job done in organising the conference. The steps taken to structure the registration for the event so that students are considered is commendable, likewise the decision to make it an annual event.
In view of the increasing use of Satellite-Derived Bathymetry in various initiatives there is a growing demand to jointly discuss standards, data integration, handling uncertainties in the frame of these applications and international initiatives.
The first international Satellite-Derived Bathymetry Technology and User Forum 2018 offered a unique opportunity for hydrographic institutions, government and industry to discuss capabilities, data integration, requirements and quality standards.
The conference was held on June 6 and 7, 2018 in the Bavarian Lake District near Munich, Germany.
Testimonials 2018
"Really liked the mix of industry, government and academics which made for some engrossing discussions."
"Broad spectrum of use cases from different users"
"The variety of presentations covering science to applications and end-users perspectives"
"A lot of representatives from different regions/offices/institutes."